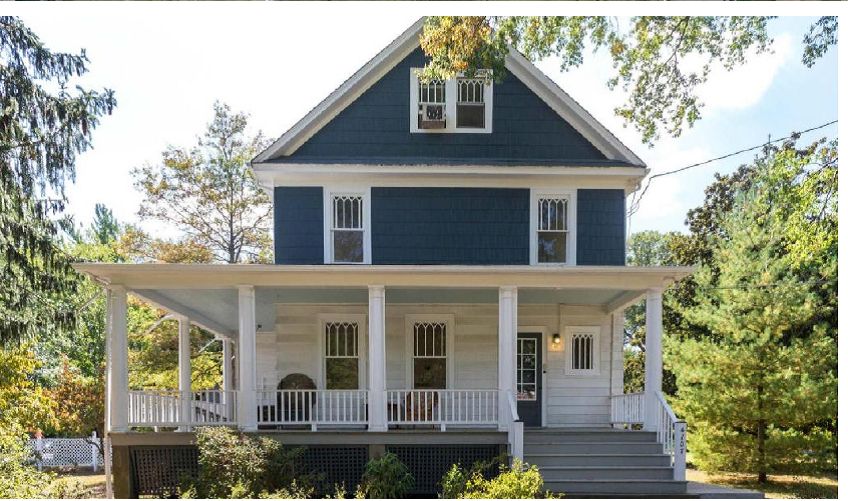 About
the City-University Partnership's Homeownership Program is part of an effort to increase the number of University of Maryland and City of College Park employees living in the City as outlined in the University Community Vision 2030. Made possible through a Community Legacy grant from Maryland's Department of Housing and Community Development and matching grants from the University of Maryland and City of College Park, the program provides $15,000, in forgivable loans, to full-time, benefits-eligible University and City employees to become homeowners in the City of College Park–ultimately reducing commutes, strengthening neighborhoods, and supporting our local economy.
Program at a Glance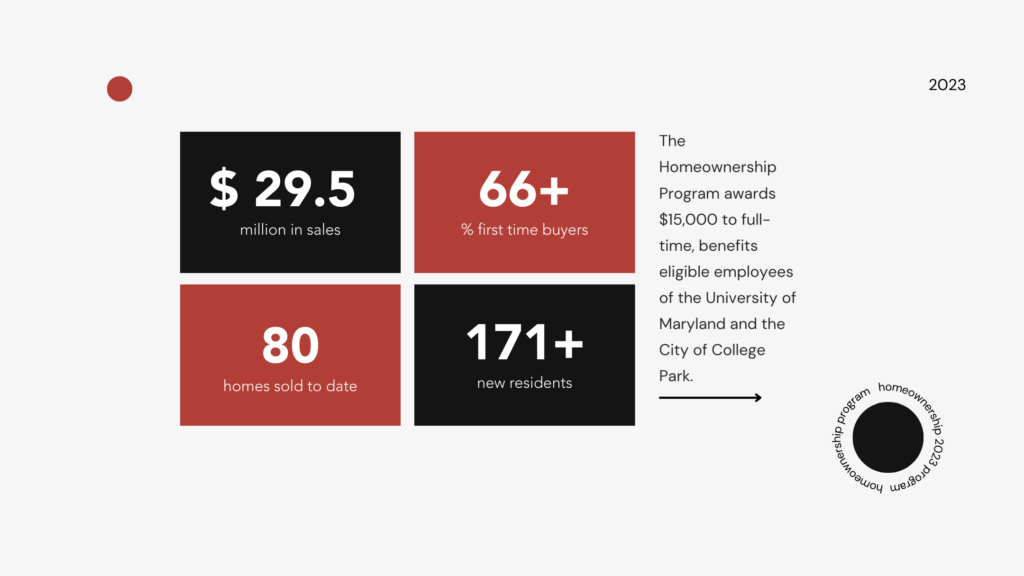 Learn More
Complete a Contact Form and a Staff member will respond to your inquiry within two business days.
Learn more about Eligibility Requirements, Structure, and Requirements for prospective Applicants!
Quick Links
FAQs
How much money is available through the Homeownership Program? How is the program structured? 

The Homeownership Program provides $15,000 in downpayment and closing cost assistance. These funds are structured as a zero-interest, ten-year forgivable loan so long as all requirements are met. These funds may be combined with other homeownership programs and grants such as the Maryland Mortgage Program or the City of College Park's New Neighbor Grant program.
What can a Homeownership Incentive Program loan be used for? 

Loans may be used only for down payment and closing costs in connection with a home purchase in the city limits of College Park. See MAP.
Can I use this program in conjunction with other homeownership programs? 

Yes. Please review a list of options available to you following the application.
How long will the loan program be available? 

Loans will be distributed pending availability of funds, on a first-come first-served basis.
How can I reserve and receive a loan? 

A completed application must be submitted no less than 3 weeks prior to settlement. Once received, funds will be reserved for the homebuyer and a final review of the documents will be conducted. So long as everything is in order, a formal loan agreement will be provided and signed by the homebuyer. At this time, the homebuyer will be required to pay a $100 loan origination fee. The Partnership will then provide the promissory note and deed of trust and transfer funds to the settlement company for the full amount of the loan.
What requirements are there to be eligible for the loan? 

Be a current or newly hired full-time, benefits-eligible employee of the University of Maryland, College Park or full-time employee of the City of College Park.
The homebuyer will not be considered if they already own a home in College Park.
The home being purchased must be within the City limits of College Park.
A mortgage loan approval must be obtained and a formal loan agreement reached with, the Partnership.
Once a loan is approved, a $100 origination fee shall be sent to the Partnership prior to funds being disbursed. Please review the "loan provisions" section for more information about the loan.
The Partnership will not discriminate against any applicant on the basis of age, race, color, creed, pregnancy, religion, national origin, ancestry, disability, marital status, sex, sexual orientation, gender identity, physical characteristic or other unlawful basis of discrimination.
Can I use any loan product with the Homeownership Program?  

We have completed Homeownership Program loans with all types of loans, including conventional, VA and FHA, but please check in with your lender about obtaining an FHA loan. At this time, we are not an FHA-approved lender.
Once I purchase a home, can I refinance or obtain a Home Equity Line of Credit? If so, how? 
Are there any fees associated with the Homeownership Program? 

Yes. Effective January 1, 2022, the Partnership will charge a $100 loan origination fee to be paid by homebuyers at the point of loan approval.